Cake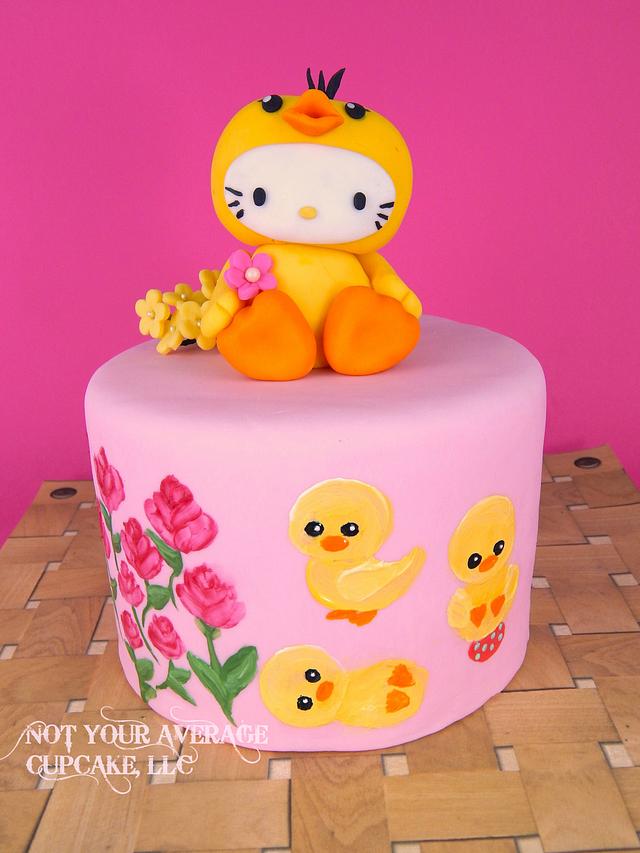 DUCK, DUCK....KITTY!!!!!
Wanted to share with you my contribution to the "A Painted Easter!" international collaboration! This was my very first hand-modeled Hello Kitty! (SO EXCITED!) I was super picky because the size of her eyes and nose, as well as VERY PRECISE eye and nose placement, are the key to making Hello Kitty look like the real deal. Hope you like her! I am a HUGE Hello Kitty fan (since I was about 9!) so it was important to me that I did her proud!
She's dressed in an Easter Duckie costume — since there's really no such thing as an Easter Kitty! She's very open-minded when it comes to holiday celebrations, you know ;)
Although this is not my first hand-painted cake, this was the first time I painted using shortening and petal dust (the roses). I loved how the brush stroke alone created the outline of the roses and left the center of each petal translucent. The rose stems and duckies were painted by combining colored food gels with Americolor Super White color to come up with an edible medium that resembles the consistency of opaque acrylic paint.
Thanks for looking. And you must check out ALL of the absolutely WONDERFUL "A Painted Easter" cake creations here: https://www.facebook.com/pages/A-Painted-Easter/550030481806735
OH….and each creation contains a HIDDEN EASTER EGG! Be sure to look for them!!!
fondant petal dusts vegetable shortening americolor gel colors wilton gel colors edible markers tylose powder a painted easter handpainted cake handpainted hello kitty easter duckies pink
69