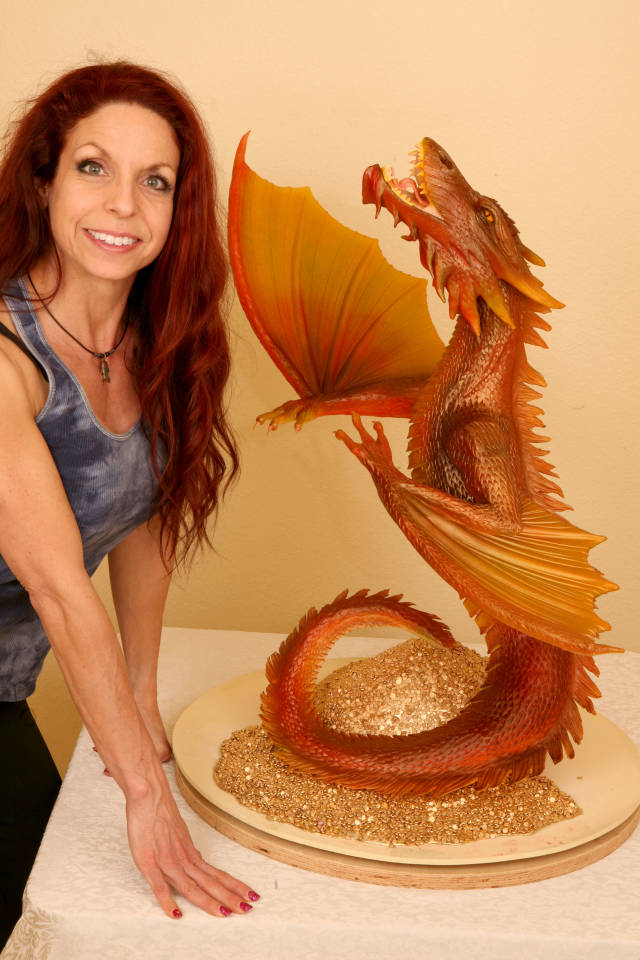 I had the unique opportunity to take Mike McCarey's private cake sculpting class right here in my hometown of Austin. Normally you have to travel to Seattle, where he has Mike's Amazing Cakes, but he was here in Austin, TX, for our cake show, "That Takes the Cake" & for the first time ever, he offered the class on the road. I JUMPED at the chance! it is a 3-day class where he helps you make your 'bucket list cake'—the one you've dreamed of doing but didn't know how. YOU choose the cake design & he helps you bring it to life. He does an incredible amount of research & engineering before you ever start the class, so the structure is already in place.
My bucket list cake for a while has been a dragon. And then when I saw the movie "The Desolation of Smaug", I thought Smaug was the coolest dragon I had ever seen, so I wanted to base my dragon from him. (And I am a HUGE Lord of the Rings GEEK! Even my cat is named 'Eowyn'!) Mike said the structure of this dragon, because I wanted him 'flying', & with the large wingspan, was very challenging! The internal structure is made of a thick plumbing pipe & copper wiring.
Smaug is solid modeling chocolate—-about 14 pounds of it! Mike suggested we make him of modeling chocolate instead of cake so that I can keep him indefinitely & use him as a display piece. The only cake part is the pile of gold he is guarding at the bottom, so I can simply make a new mound of gold & slide it in place, & then serve it from there while keeping the dragon intact. Brilliant!
I actually didn't finish him in the 3 days! As you can see by the picture of me with him the large scale—-he is over 32 inches tall, so he's quite the beast! The amount of detail was insane. I spent most of Day 2 making ALLLLLL those scales! And his head took more time than we had in Day 3, so I still had to finish him at home!
The cool thing about the class is Mike walks you carefully through every step, but YOU do all the work! He doesn't do it for you. But he is AMAZING at breaking very difficult things down into achievable steps, & his knowledge & techniques are off the charts. I learned so much, & feel that the class was the best investment in myself & my business that I could have made. I am forever grateful! Plus it was FUN! Mike is awesome! Funny, kind, patient (VERY patient) & so helpful.
I hope you love Smaug as much as I do! <3 "I am Fire. I am……………DEATH!"