Cake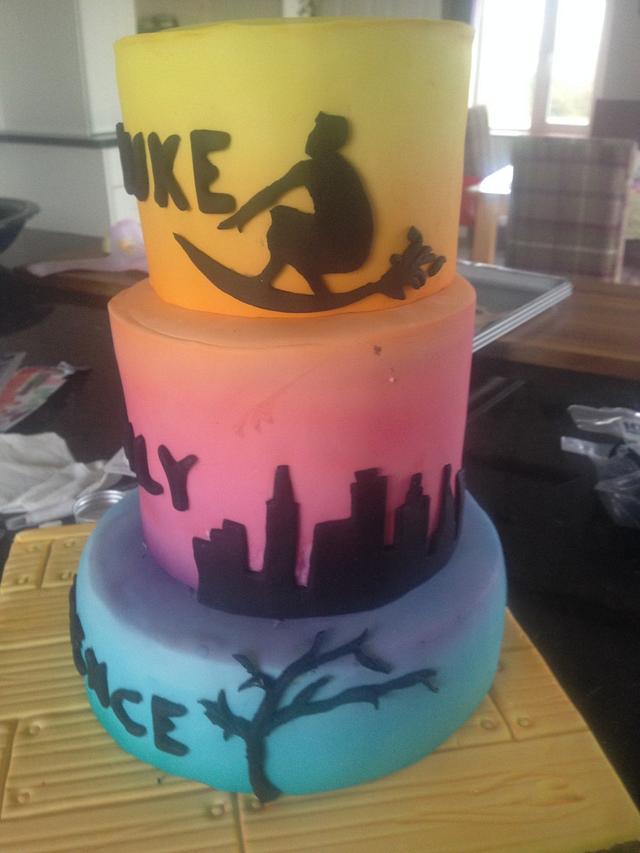 Airbrushed Silhouette Cake
I made this cake for a friend's triple birthday party and i really enjoyed making it. I love making cakes but i am not in any way a professional.
This was my first airbrushed cake and my first attempt at silhouettes – which was great fun to make. I used six colours on the cakes – green to blue to purple to pink to orange to yellow and i used black fondant to cut out some of the images free hand and i painted some of the silhouette pieces as well.
This cake was for a 21st (top tier – surfer theme) and a 30th (middle tier – new york girl theme) and a 40th (gardener theme). It was one tier of chocolate biscuit cake, one tier of pink ombre lemon cake with vanilla buttercream and one tier of vanilla sponge with chocolate ganache.
To make the stars for the top, I added silver edible glitter to the black fondant (rolled out 1/2 inch thick) and i added some tylo and two strips of floral wire. When they were hard i stuck the wires into the top of the cake.
I airbrushed the wood effect covered cake board and used an icing nozzle tip to create nail/tacks at the end of the boards, which i brushed with silver lustre dust mixed with a drop of vodka. This was my first time airbrushing a cake board.
ice wise white icing 3kg ice wise black icing 500g tylose powder edible glitter airbrushed airbrush craft knife airbrushed wood effect covered board airbrushed cake silhouettes
2