Welcome to the sweetest Carnival ever!
A group of cake decorators, from around the world, collaborated together in the past months to bring you these 29 sugar creations, from the elegance of the Venice Carnival to the vibrant carnival of South America.
Carnival is a 5 day festival, which occurs immediately before Lent, and is celebrated in different countries, with carnival food, floats, lots of colours, masks, costumes… It can be elegant. It can be satirical. It can be colourful. It's a 5 days of fun.
My cake is called "La Duchessa Veneziana" (The Venetian Duchess) and she cuts a regal figure as she stands upright with her gold and diamond embellished sceptre by her side. She is all ready to attend the Grand Masquerade Ball at the "Carnivale di Venezia" and is resplendent in her striking gold, turquoise and yellow bejewelled 18th century "Marie Antoinette" inspired gown with its deep décolletage neckline, pleated sleeves and ruffles skirt. Her look is complete with her big, gold lace collar and matching bejewelled ruffles headdress. To hide her identity, she wears a blue lace "Columbina" half mask with blacked out eyes atop a "Volto" full face mask. A yellow pleated scarf adorned with strings of gold beads folds neatly around her neck and further protects her identity.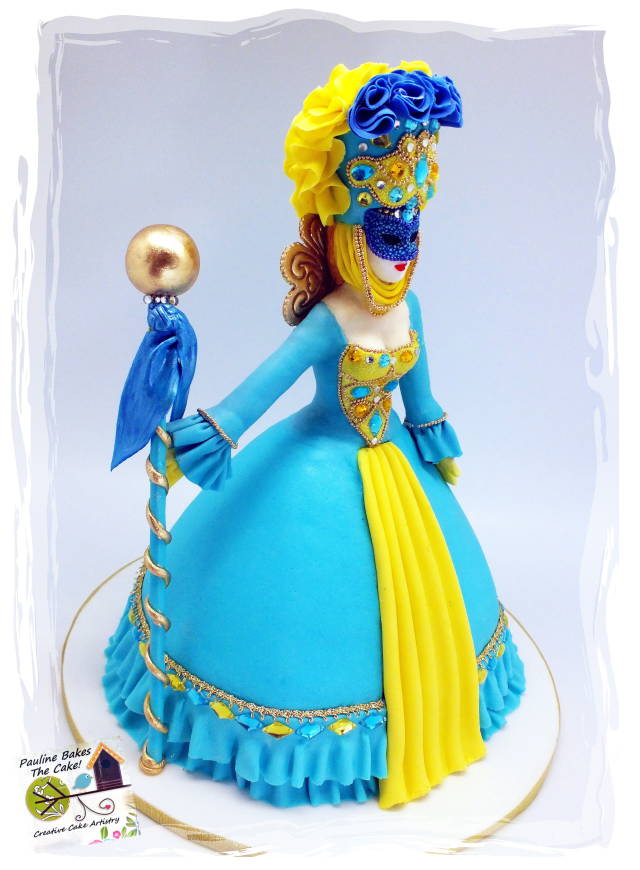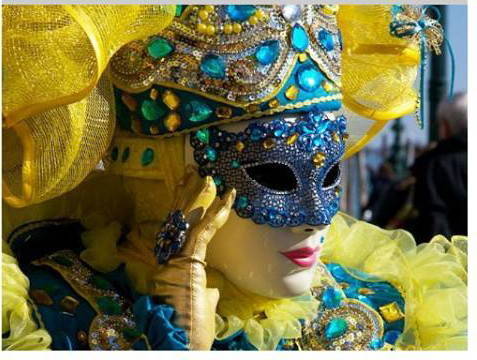 My Sugar Carnival piece is a doll cake, inspired by the "Venetian Carnival" pic on my inspiration board which features a masked lady reveller wearing a turquoise and yellow costume with matching jewels and ruffles. The sugar art doll figure is hand modelled out of gumpaste and the skirt is fondant iced cake. Everything is edible except for the turquoise / yellow jewels, white Swarovski crystals and the gold ribbon trim on her skirt. The tiny gold beads are actually white sugar pearls individually positioned with edible glue and then hand painted with 24K edible gold dust mixed with alcohol.
You can see the full collection and video on our facebook page:
https://www.facebook.com/SugarCarnival?ref=hl