Cake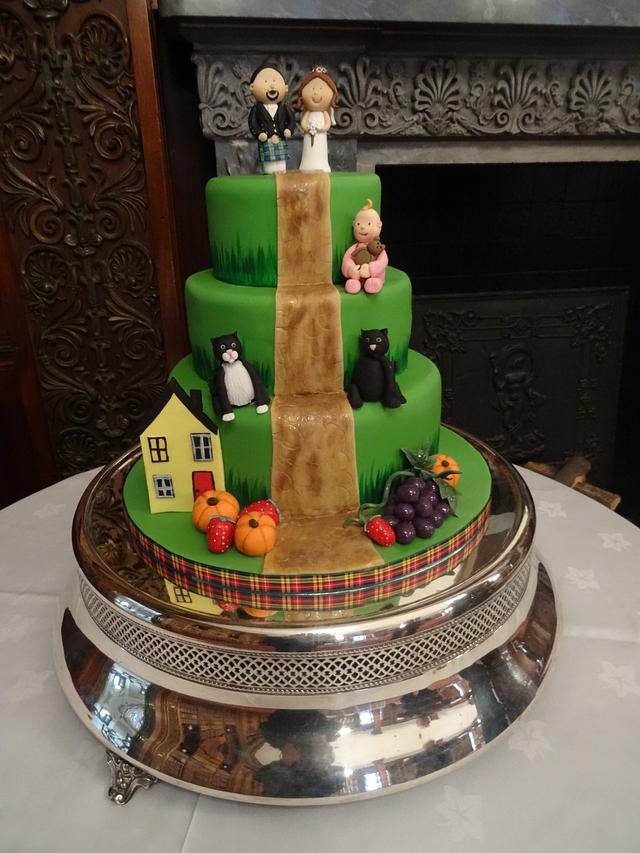 The green wedding cake
Will I ever get asked to make a green wedding cake featuring a yellow house, 2 cats (one with only 3 legs), pumpkins, strawberries and grapes again? Possibly not, but it was great fun to do!
A totally unique and personal cake for this couple. There were 2 styles that the bride was interested in when I first met her, one monochrome and minimal and the other a slightly novelty style. Within a short period of time we'd designed this!
So, the bride and groom on top, their baby daughter and beloved cats (Sid & Cooper), the produce they grown in their garden at the bottom and a yellow house with a red door, just like they live in an based on a favourite picture they have. The board is trimmed with Buchanan ribbon, the groom's tartan. The path leading up the cake symbolises their journey together.
petal dust painting smoothers scalpel paint brushes pumpkins grapes strawberries cat bride and groom baby house green tartan novelty wedding cake
1