Cake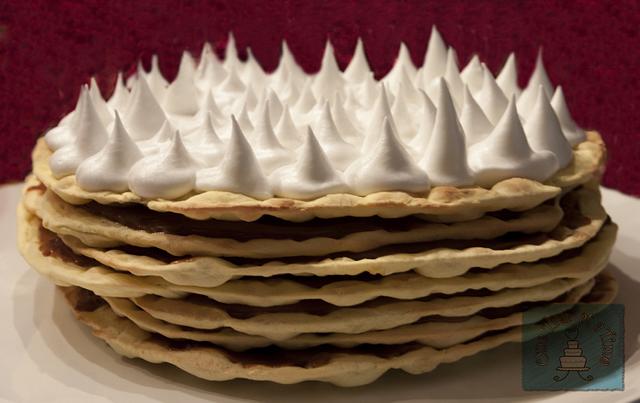 Alfajor Rogel Cake
For our annual holiday gathering my friends asked me to make this Alfajor Rogel cake. I had no idea what this cake was or even what it was supposed to taste like, but who doesn't like a challenge?
My friend proceeds to send me a recipe in Spanish (you can find it here) and a YouTube video in Spanish (you can find that here). That all sounds quite helpful except for the fact that I DON'T SPEAK SPANISH! So Google translate came to my rescue with the visual from the YouTube video (since the two recipes were totally different) and I present you with this Alfajor Rogel cake.
This cake is a South American dessert that is essentially shortbread layers with dulce de leche (thick caramel sauce) between each layer topped with Italian meringue.
The cake was devoured completely at the party and the host gave me many compliments and I've been commissioned to make it again for his birthday in a few months!
What an adventure!
Melanie (One Tier At A Time)
alfajor alfajor cake shortbread dulce de leche caramel italian meringue merinuge spanish south american uruguay
22