This is my latest cake, made for one of my oldest and best clients. At first, she wanted a TMNT cake for her son and I was excited to be able to recreate one of Toni of White Crafty Cakes' iconic designs but then a few weeks, the birthday boy had a change of heart and wanted a Transformers cake instead. I was hesitant to change designs at first because Transformers is ALWAYS a tough theme to work with. The characters are SO complex that even doing 2D cutouts of them is difficult as I already knew from a cake I did for my son back in 2011. But of course we must try to please the client and when she sent me a photo of a simple looking 2 tier Optimus Prime helmet cake, I was somewhat relieved and we made the change.
Well, a couple of days later, she emailed again this time with a pic of the actual Optimus Prime Voice Changer helmet toy which is a pretty complex version of the helmet (see below). I was mortified and panicked as it would require a whole heck of a lot more work lol. I told her it would be more due to the increased complexity and gave her an amount that I hoped she would say no to. Unfortunately for me she agreed and I was committed…arghhh.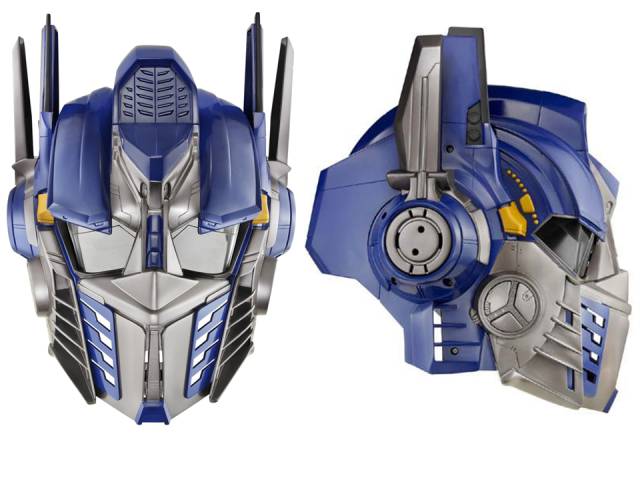 So I tried to look for a cake with a detailed helmet already done, so that I might gain some insight into how I might start on the one I'd committed to but could not find anything close. But I had a game plan…I decided the best way to tackle this challenge would be to start with a cake with the proper proportions (height & width) and just build up the details using panels of fondant. I made some pieces a few days ahead so they had time to dry. I had a plan and hoped it would work.
When the day came to start building Optimus' helmet though, I literally stood staring at a blue minion shaped cake for almost an hour trying to decide how to start layering the fondant and berating myself for not telling the client straight out no. The first few steps looked like a blue & gray Iron Man but slowly, as I added the details, it began to take shape and I could actually see Optimus…PHEW! I wish I had taken progress shots but was not sure how long I'd need to detail him so did not want to eat up precious time taking pics along the way. In the end it worked out for me thank goodness as I really did not want to disappoint this client!
So here he is…and yes he is made from cake and no he was not carved at all. The helmet is detailed from a 6" round cake 7.5" tall and the bottom tier is an 8" square cake with panelling in front to add some dimension. I am quite thrilled with how he turned out (and I never say this) only because of the major self-doubt I had when I started detailing the helmet lol so hope you all like him.
TFL & reading – Violet =D