Cake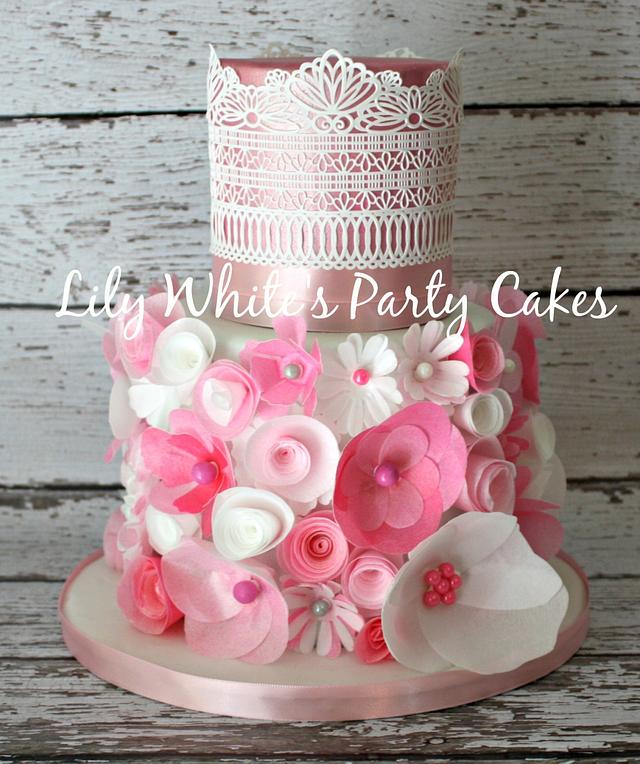 Wafer Paper Flower and Lace Cake
Hoping this is a safe place to be honest – because this cake challenged me in so many ways – I feel I need to share!
This was my very first attempt at wafer papers flowers – so I tried to stick with more basic shapes….I have to say, I love the way the bottom tier came out and can't wait to do it again and try more styles and get more adventurous with it! I ended up adding one flower to the lace tier on site, to tie it in better, but didn't get a good photo of it – it was SO dark! In total, this cake needed 68 wafer flowers – for anyone wanting to try one on their own – always make way more than you need of each style so you have more choices! I ended up with about 20 extra flowers that I'll be using on another cake this weekend! My favorite flowers are the simple rolled roses!
Cake sizes were 6" and 4" rounds – flavors were vanilla bean dark chocolate chip with dark chocolate ganache inside and out. I didn't have time to make my own LMF for this, so I tried the new Wilton fondant that I had on hand. OMG – it's horrible. It's WAY to soft for me. So thankful I covered the bottom tier first since it was going to be covered up anyway. Thought I had figured out how to make it work for the top tier…but no, was still horrible…hence the ribbon at the base of the lace! How's that for full decorator disclosure! LOL.
So, I like the bottom tier, for my first try – but the top tier…I wish I had just made my own fondant that I KNOW works and been able to get that nice clean bottom seam!
Ok, I'm done now…on to the next wafer paper experiment!
wafer paper pink white lace cake lace pretty birthday lily whites party cakes party love celebrate
18