Cake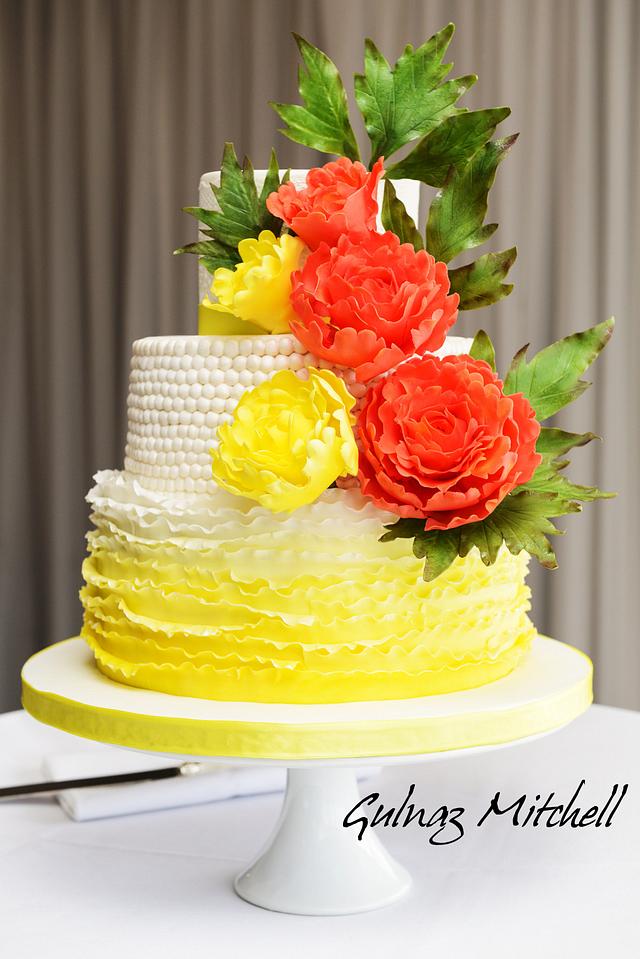 The wedding cake "Claire"
I made this cake for my gorgeous sister-in -law. I was honoured she asked me to make her wedding cake. She provided the photo of the cake she wanted. I wasn't completely happy to replicate someone's design, but luckily the terrible weather conditions in New Zealand didn't let me do that. Just before I started to decorate the second tier we had tropical storm Luci which lasted three days with rain and wind and 100% humidity. Even with my air-conditioning working all the time, I still couldn't use my cake smoothers, they kept sticking to the fondant!!!! I never had that experience before. With the wedding next day, I was sitting in despair looking at my cake and thinking how can I bring this "piece of cake" to the wedding! Suddenly, I had the solution, I made lace using Jo's from "Ciccio cakes" recipe. I was so scared that it would not dry overnight with this humidity, so I decided to put pearls to covered up my disappointing second tier. The lace turned out fine, so I put it around the third tier.
I used Jo's from "Ciccio" cakes and Yili's from "Starry delight" combine tutorial for my gumpaste peonies. I have to thank also Pauline from "Pauline Bakes the cake" for the leaves template and Dina from Miettes for helping me to find the right colour dust for my peonies.
Here is the link for Yili's from "Starry delight" peony tutorial: http://www.starrydelights.co.uk/index.php/peony-tutorial/
Here is the link for Jo's from "Ciccio" cakes peonies: https://www.facebook.com/notes/ciccio-cakes/peony-flower-from-2-homemade-cutterswho-said-you-need-expensive-equipment-/575095075846718
Here is the link for Ciccio lace tutorial : https://www.facebook.com/OperationSugar/app_251458316228
wedding cake wedding peony coral peony ruffles ruffle cake ombre ruffle cake coral and lemon peonies
70