Carol Vaughan
posted
almost 10 years ago
Artist Box and Paint Palette
Advertisement
Advertisement
Artist Box and Paint Palette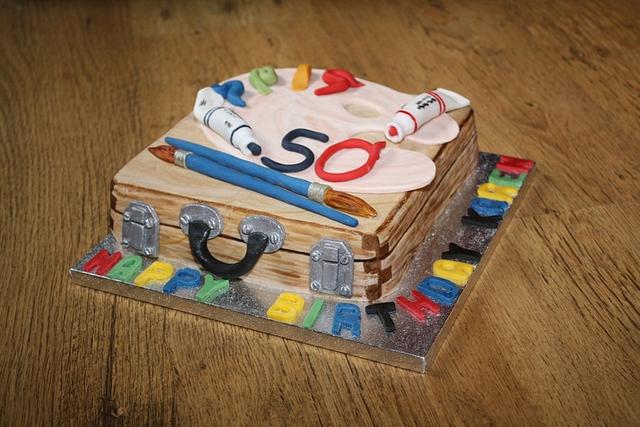 Advertisement
Advertisement
I made this for a friend who is a very talented artist for her 50th birthday.
10" madeira split and filled with jam and buttercream. The paintbox and artist's palette where made from marbled fondant to give an impression of woodgrain. I painted a few more streaks of various shades of brown across the paint box using thinned down gel paste colouring because it wasn't 'woody' enough for my liking. I also added lines along the edges and painted in dovetail joints the same way.
The hardware on the case was fondant painted with silver dusting powder mixed with alcohol. The paint tubes were pieces of coloured fondant wrapped in white fondant and painted with thinned gel paste. The paintbushes were quite easy too – the brush ends were teardrop shaped pieces of icing scored with a sharp knife and given a colour wash.
The inspiration for this design came in a book I've had for years (Practical Encyclopedia of Cakes and Decorating: The Complete Guide to Essential Techniques)
Carol, Maidenhead UK, http://offtherailscakes.co.uk