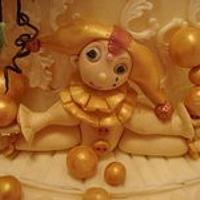 Eve
posted over 9 years ago
Cake International my first entry!!
I had no idea what to expect, my first entry into a huge competition, what would my design be?? Needed to think of something quite different, I knew I was going to do a 3 tier Wedding cake made from dummies of course, my design grew daily, the colour I wanted to achieve was a real creamy buttermilk, trial and error till I got it just right.
Every night I went to bed my brain came up with something different, eventually I had it BALLS lots of then in all shapes and sizes assorted textures, the little harlequins didn't arrive till much later, actually towards the end of my cake, and just when I thought I'd got it just right, 2 days before the show I came up with the large Harlequin right on the top of the cake.
PHEW hard work….. And for hat I was awarded a BRONZE medal, very happy for my first attempt, next year I'm going for GOLD!!
Happy Days. Lol.xx
Eve, Edgbaston, Birmingham, http:www.Cakes4u.net http://www.facebook.com"cakes4u"