Marbled Buttercream - Under the Sea Cake Tutorial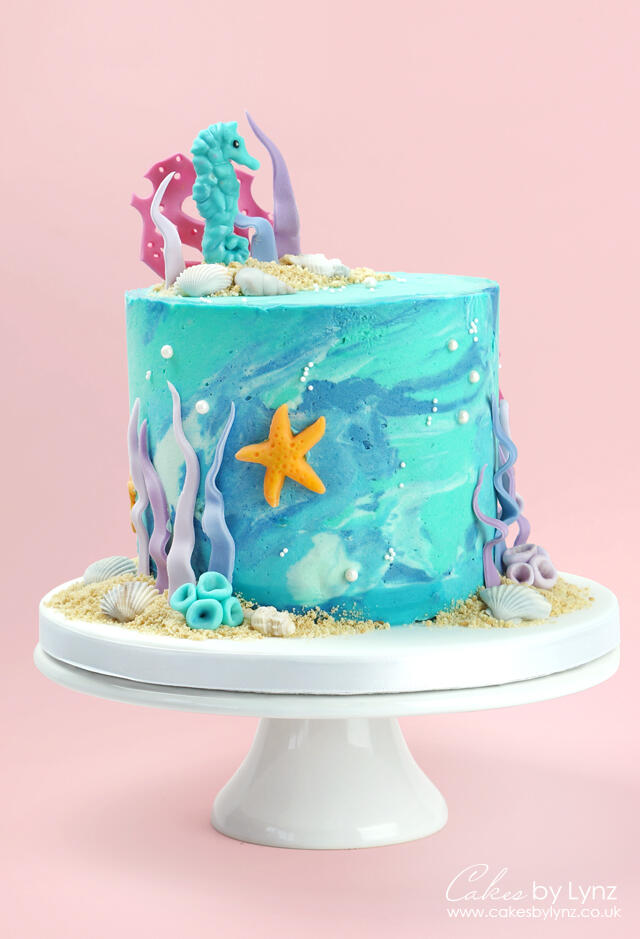 Hi and welcome back to my kitchen. One trend I am really loving at the moment is marbled buttercream, so in this weeks video tutorial I am going to show you how to apply it to the side of your cake and how to turn it into an under the sea themed cake.
In the tutorial I run through in more detail each step of creating this cake, from stacking and filling the cake, applying the crumb coat. Adding the marbled buttercream effect onto the side, plus how to use silicone shape moulds to add fun models to your cakes and what to use for edible sand.
➡In this video I use an American buttercream recipe which you can find here: https://youtu.be/dPV815p1eAE
➡Plus you will find my vanilla sponge cake recipe here: https://youtu.be/j5Axsg_8X3E
➡Other tutorials you might find useful:
How to cover a cake in buttercream: https://youtu.be/Q_gJ6HoRRDk
How to cover a cake board: https://youtu.be/UbJo785jQug
Chocolate Ganache: https://youtu.be/1ZWaaeE1Ti0
I really hope you enjoy the tutorial and will find it useful. Thank you so much for watching and don't forget to subscribe for more cake decorating tutorials.
➡️Click here to read more about this cake over on my blog!
http://www.cakesbylynz.co.uk/index.php/2020/07/marbled-buttercream-under-the-sea-cake-tutorial
➡ FOLLOW ME HERE:
▫ Blog: http://www.cakesbylynz.co.uk
▫ Facebook: http://www.facebook.com/cakesbylynz
▫ Instagram: https://www.instagram.com/cakesbylynz/
▫ Twitter: @cakesbylynz
-- CakesbyLynz