Wafer Paper Japanese Anemone Tutorial | Anna Astashkina
As you know, the anemone is one of my favorite flowers to create out of wafer paper. I love using them to decorate kids cakes and colorful flower arrangements.
Just follow the video tutorial http://astashkinacakes.com/wp-anemone/ where I show you how to make this wafer paper flower step by step. And of course, the flower template is included! The rest of the tools you will need to make the flower are listed below.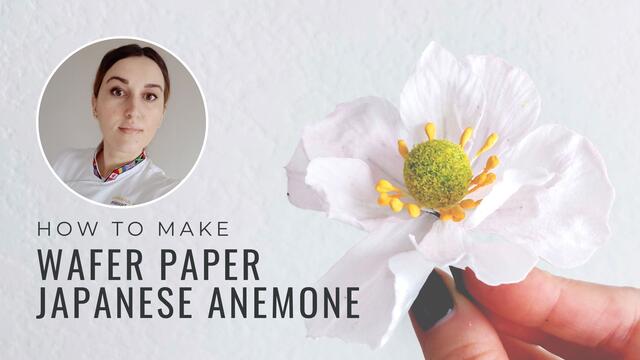 Download free template here https://astashkinacakes.com/wp-anemone/
TOOLS
Sharp Scissors
Foam petal pad
Plastic spoons or petal former
Needle Nose pliers for making hooks on wires
Flat brush
Fluffy make up brush
Peony petal veiner
MATERIALS
Wafer paper
Green Gumpaste
Floral wire 22 gauge green
Floral wire 30 gauge white
Yellow-tipped stamens Green and Pink gel colors
Food grade glycerin
Floral tape Wafer Glue (watch my recipe here)
Confectioners glaze or gumglue
Semolina or corn meal
Yellow petal dust
Corn starch
INSTRUCTIONS
1. Gather your craft tools and materials. Download the flower template below.
2. Cut wafer paper according to the template using scissors or a cutting machine.
3. Using small ball of gumpaste create anemone center. Insert 22 gauge wire and let dry.
4. Dip anemone center in gumglue or confectioners glaze and cover with colored semolina pollen.
5. Cut yellow stamens in half and attach to your center.
6. Wire each petal, let dry.
7. Color and shape all petals. Assemble wafer paper anemone.
8. Color and shape 3 pieces of calyx. Attach to the flower.
I can't wait to see what you do with it. You can make your own wafer paper flower, post on social media and tag me @astashkinacakes, so I can share.
-- Wafer paper tutorials at AstashkinaCakes.com | Weekly free demo on www.youtube.com/astashkinacakes