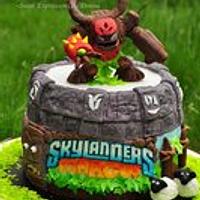 Donna
posted over 9 years ago
Printed Giant Cupcake Chocolate Shell
This is a simple tutorial for embedding a design on that giant cupcake cake chocolate shells.
Materials needed:
Candy melts or chocolate melting wafers
Candy colors
paint brush
Mould of your choice – for this, I simply used a clean, recycled cookie container. :)
How to:
1. Melt chocolate wafers in the microwave or using a double broiler.
2. Separate a small amount you would need for your "painting" and tint them with oil-based colors.
*It is a must to use oil based colors or powdered color so as not to ruin the chocolate.
3.Paint the inside of the mold as you desire. Let it set for a few minutes or you let sit in the fridge a minute or two.
4. Pour on the rest of the white chocolate gently, making sure you do not agitate the picture/painting.
5. Let it set inside the fridge. For this tutorial, the mold is about 6" round and took about 10 minutes to set completely inside the fridge
6. Now here is the tricky part. Get the chocolate out of the mold by giving the mold a gentle nudge , turn the mold upside down. I then give it a gentle tap on the table and it actually popped right out.
Easy right? Thanks for looking. :)