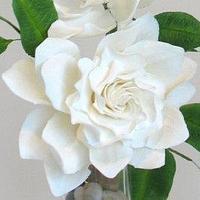 Shaile's Edible Art
posted over 10 years ago
How to get started making a gumpaste flower from a photo
Lovely Purple Dahlia – Made in gumpaste
How I made the purple Dahlia from this photo…
What I do when I find a flower I want to make
Don't have the real flower then print the best photo or photos you can find.
Look through your cutters to find one which would work best. You don't always need to buy a cutter since many cutter sets have several components and with a little manipulation you can create the perfect petals shapes.
I then do the same with the veiner. Find one which looks like it is a somewhat close match if not perfect one. Not all flowers are veined but if they are it is nice to add that extra touch.
Next, I gather all my supplies, the cutters and veiners, photos or real plant and just start making petals. I make a few different variations and match them to the photo or plant to see if they look right. Once I am happy with the petals I make them all
Some things to remember if you don't have instructions and are making them the first time…
Have the real flower or photo with you for reference
Write instructions as you make the flower!! I am guilty of not always doing this thinking I won't make this flower again. You just never know.
Don't forget to write the petal dust colors and how you applied it in case you need to make more.
Shaile's Edible Art https://www.facebook.com/pages/Shailes-Edible-Art/121894759384?ref=tn_tnmn