Cake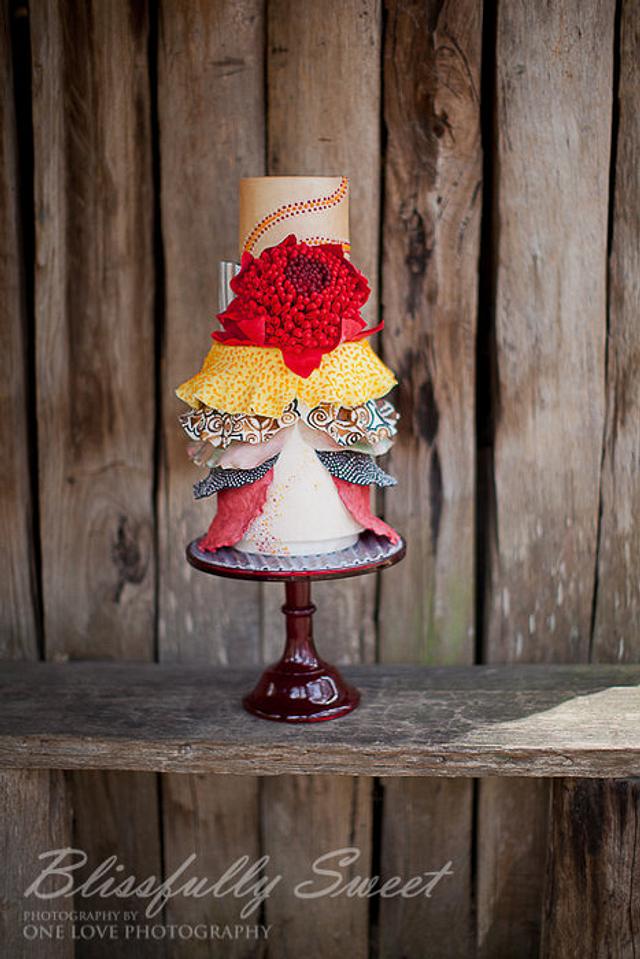 Australian Bush Christmas Cake
Aussie Bush Christmas Cake for {Half Baked}
Thrilled, honoured, amazed ….. all words I used to describe how I felt about being asked by Carrie of Half Baked to be one of the 12 Cakes of Christmas! I was even more thrilled when I learned of the design brief – an open palette on what inspires us at Christmas.
I knew immediately – Australia. To me, the best country in the world. Unlike most of the world, our summers are spent by the pool, swimming in the beach or having a BBQ. The sun is scorching and it is a time to be outdoors!
Australia is creative, indigenous, rustic and has amazing native landscapes. How to incorporate this all in cake?!
The bottom elevated and triple stacked tier played homage to couture, aboriginal design and textures of our land. I used my main inspiration as the Miss Australia national dress costume and the beautiful ruffled layers of her skirt.
To create the ruffled layers, each was carefully placed individually and given a different textural treatment. The bottom ruffle was roughened with royal icing and then painted with a lustred finish to give the material look. The black ruffle was a pointillist style ruffle and was made up of many many royal icing dots. The next ruffle was watercolour painted in different earth tones. The next ruffle was handpainted in a indigenous style to create the motif and the top yellow ruffle had sunshine inspired piping over it.
I wanted a show stopper floral for the cake. You cannot get more Australian, or particularly from NSW, than our state flower the Waratah. This was a test of my patience, but all the hundreds of individual petals paid off and it proudly perched on the top of the ruffles.
The top 2 tiers were lopsided in placement for something different! ;P One tier was covered in a simulation of corrugated iron (like our typical bush huts) and the top was a homage to our indigenous heritage with some Aboriginal style painting. I had originally planned to cover the top tier in this, however I decided to just simply highlight this as the cake was already busy enough! ;P Finally the board was covered in the same corrugated iron look.
These amazing photographs are by One Love Photography.
Please visit my Facebook page at: https://www.facebook.com/pages/Blissfully-Sweet/95542273269
christmas cake australia bush warpath flowers ruffles piping
15