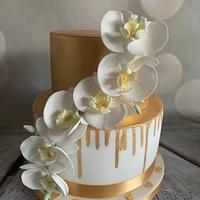 Roberta
posted
almost 3 years ago
Katy's Tik Tok 14th birthday cake
Advertisement
Advertisement
Katy's Tik Tok 14th birthday cake
expand all pictures
Advertisement
Advertisement
TikTok cake for granddaughter's 14th birthday., A layer of chocolate sponge cake sandwiched between two layers of vanilla sponge. Filled with chocolate buttercream, raspberry jam & covered with milk chocolate ganache & Sugarpaste. Edible image for small TikTok sign & phone. Personalised topper from a well known auction site.,
Although freshly baked sandwich cakes would maybe consider using sugar syrup to keep moist in future.
Just a hobby baker but love seeing other people's work & aspire to creating something as beautiful one day.