Cake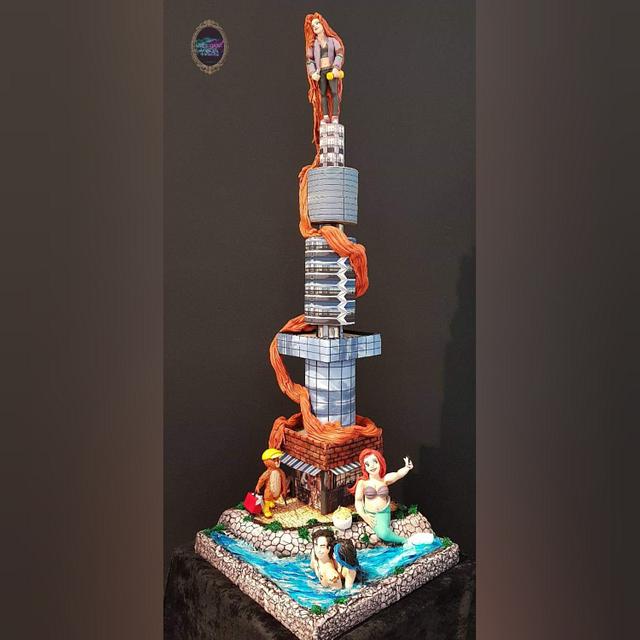 Once Upon Collab
Mustafa Kansu
Mayıs 1974 Bursa doğumluyum. İlk,orta ve lise eğitimimi Bursa' da tamamladım. Trakya Üniversitesi İnşaat bölümünü ticarete atıldığım için terk ettim.10 yıl aile şlirketinde mobilya ticareti ile uğraştıktan sonra, Bursa da özel bir şirkette görev aldım 6 yıl burda çalıştım. Hiç bir işim pastacılıkla alakalı değildi. 2013 yılında eşim için Mutfak Kafe isimli işletmeyi kurduk. 6 ay sonra ilk pastamı inatlaşma yüzünden yaptım. pasta yapmak inanılmaz mutlu etti ve bu işin benim işim olduğunu o gün anladım. Bu işin üzerine eğildim ve çalıştığım firmamdan istifa ederek pastacı olmaya karar verdim. Hayatımda ki en önemli dönüm noktasıydı. Kendimi her türlü geliştirip eğitimlerle destekledim. 26 Nisan 2016 da TAŞFED ve BUTAD ın organize ettiği Uluslararası 2nci Gastronomi Festivalinde ilk yarışmama katıldım. Yarışmada 1 altın 2 gümüş madalya aldım. Bu derecelerimle aynı zamanda artistik pasta kupasınında sahibi oldum. İlk yarışma ilk heyecan ve başarı dahada iyi olmam için beni motive etmişti. Ardından 23 Elül 2017 de Ankara' da düzenlenen Uluslararası Master Of Başkent yarışmasına 2 kategoride 2 eserle katıldım. 2 eserimde Altın Madalya ile Ödüllendirildi. Daha sonra 10-11 Martta düzenlenen Uluslararası Master Of Cake İstanbul Pastacılık ve Çikolatacılık Festivali benim için çok özeldi. Bu festivalede 2 kategori ve 2 eserle katıldım. Eserlerim 2 altın madalya alırken aynı zamanda Minyatür Kategorideki eserim Kategori birinciliğide aldı. 2 pasta 3 ödül benim için muhteşemdi. Festivalde en güzel anılardan birisi ise Dünyaca ünlü 2 duayen bu işin ustası isimlerin gerçekleştirdiği dev platformda hazırlanan Güzel ve Çirkin filminin balkon sahnesi komple 20 M2 alana pastadan yapılma projesinde yer almamdı. Tuba Geçkil ve Daniel Diaquez 'in ekibinde çalışmakta ayrı bir tecrübeydi. 2019 ise planlarımın ve programlarımın inanılmaz yoğun olduğu bir yıl olacak. hepsi başarı ile sonuçlanacak inşallah. Bu yolda bana inanan, destekleyen ve güvenen yanımdaki tüm kişi ve kişileri kucaklıyorum.
BIOGRAPHY
NAME: Mustafa KANSU
BUSSINES NAME: Mutfak Kafe
COUNTRY: Turkey
BIO: (MAXIMUM 10 LINES): I was born in Bursa in May 1974.In 2013, we established Kitchen Cafe. Making the cake was incredibly happy and I realized that it was my job. I supported myself with all kinds of trainings. On April 26, 2016, I participated in my first competition at the 2nd International Gastronomy Festival organized by TAŞFED and BUTAD.I got 1 gold 2 silver medal in the competition. At the same time, I got my artistic cake cup. Then, I participated in the International Master of Cake Ankara contest held in 23rd of August 2017 in Ankara with 2 works in 2 categories. 2 works were awarded with Gold Medal. I participated in the International Master Of Cake Istanbul Pastry and Chocolate Festival organized on 10-11 March with 2 categories and 2 works.While I was awarded 2 gold medals, my work in the minyatur category was the first in the category. The 2 pie 3 awards were great for me.I embrace all the people and people on my side who believe, support and trust me.
Description of the work: ( What is it about, title, concept) :
September 21st, the arrival of autumn. my original work combined with stained glass technique.
Materials used: Styrofoam was used on the floors of the cake. The top coating is coated with sugar paste. The dyes used are liquid, gel, powder food dyes. The vitary work is done with clock and leaf isomalt sugar. 9volt battery and led bulb was used in the illumination of the watch. special texture works, air brush, hand painting, and stencil were used.
LINK FACEBOOK: https://www.facebook.com/mk.kansu
LINK INSTAGRAM: @pastasanatcisi
7