Cake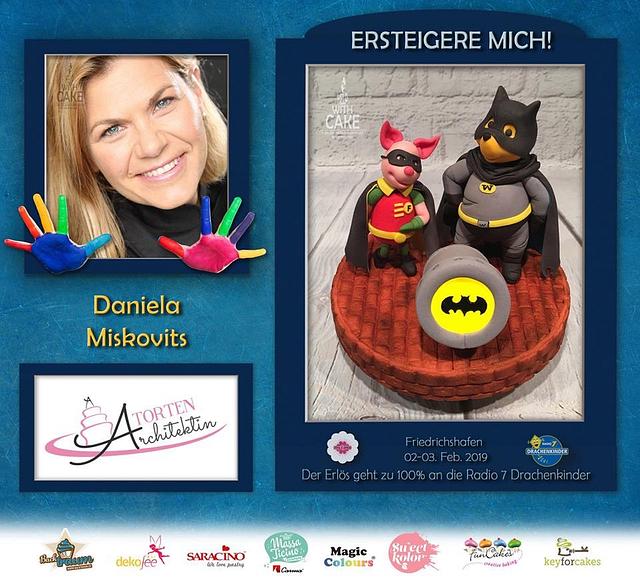 Superheroes!
My little Superheros for the "help with cake Collaboration" in Friedrichshafen Germany.
Hope you like it.
The headlight shines! Really!
Description of the Charityevent of Radio 7 below.
Let's cheer up sick kids.
Sweet collaboration for the benefit of Radio 7 Drachenkinder
What could be more beautiful than the honest laughter of a child? Together with cake artists from all over Europe, we would like to put a smile on the faces of visitors of My cake Friedrichshafen 2019 and the children from Radio 7 Drachenkinder
Already this year it was possible for us to help where help is needed through the collaboration "Help with Cake". A total of 1.275€ came together at the auction of the sweet artworks, which could be handed over to the project "Worldwide Volunteers" without deduction.
During our research for the Collab 2019 we became aware of the project of Radio 7. The Radio 7 Drachenkinder focus on sick, handicapped and traumatized children and teenagers.
Radio 7 Dragon Children is one of the most successful charity campaigns in Baden-Württemberg and we, together with the team of Messe Friedrichshafen, are proud to support this great project.
"Let's cheer up sick children."
The goal and motto of the Charity-Collab is: "Let us cheer up sick children", because without the laughter of our children our world cannot exist! 21 artists from 7 countries in Europe will create unique works of art from sugar. Artworks that give us happiness just by looking at them, that make us smile and that remind us of situations and moments that make us happy and joyful.
And this is how you can help!
The artworks will be published and presented here and on the artists' pages in the week before the beginning of the fair. The exhibits will then be exhibited at My Cake and can be bought there by placing a silent bid. The auction ends on 03.02.2019. The auctioneers with the highest bid can then take the sweet works with them home after the fair.
The total proceeds of the auction will benefit the dragon children without deductions and will help the children to laugh again.
We will introduce tuo you the artists #helpwithcake2019 of the Collab "Radio 7 Drachenkinder" in the coming weeks on this Facebook page. Follow us, get to know the artists and see what else is waiting for you.
Collaboration – What is that?
We would like to answer this question in the following way:
A collaboration (or Collab in short) is a form of collaboration between people. In our case, cake artists create sweet creations based on a theme. Each according to his own ideas and with his very own, unmistakable style. From abstract, minimalist works of art to showpieces richly decorated with detail. The works are then all together presented to the public.
pastkolor fondant magic colours rolkem rainbow dust gel dekofee modelling tools hands! cerart tools #winnie #caketopper #piglet #superheroes
1