I decided that I wanted to do a gross head and took the plunge and entered it into the Small Decorative Piece at Cake International in Birmingham during the first weekend of November.
This was the first time that I had attempted to create eyes made from isomalt too (inspired by Liz Merek of the SugarGeekShow). The head was covered using a mix of various fondants and modelling pastes and the blood made from coloured piping gel. I also airbrushed Fungus Fred to bring out the shading on his face and neck.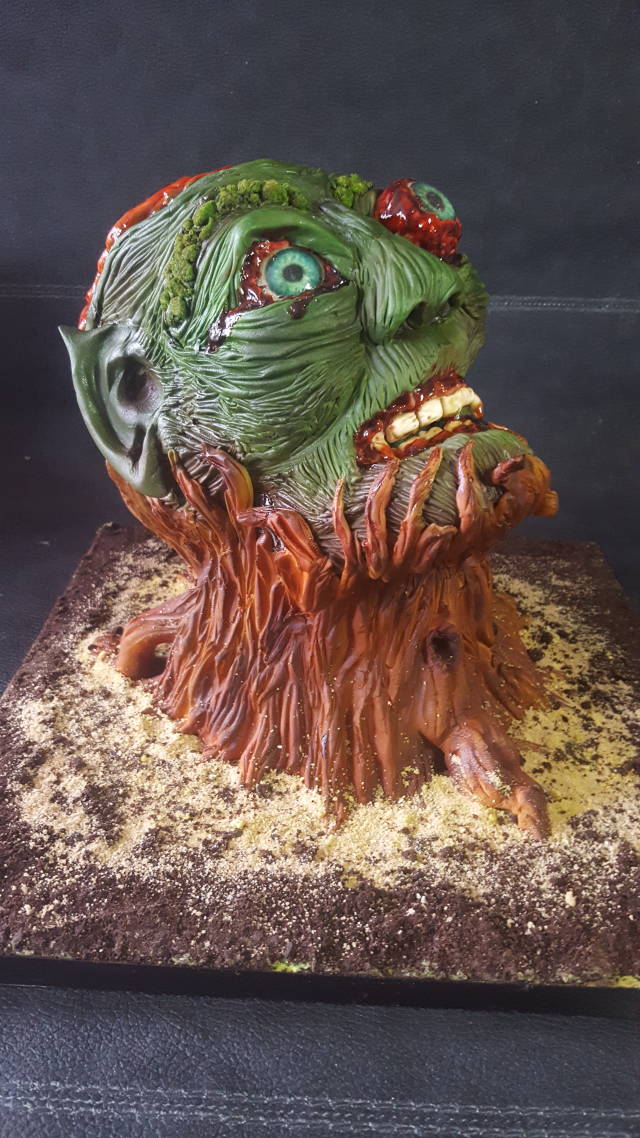 The board was covered in edible soil and sand made from crushed biscuits and blitzed golden brown sugar. The lines on his face were done by hand using my dresden tool and with the other elements including the neck I also made good use of my sugar shapers. I am quite pleased with how he turned out considering it was my first attempt and also my first time creating teeth.
On the Saturday afternoon I was surprised to learn that I had received a silver award for Fungus Fred and upon receiving my feedback the following day learned that I had only dropped points by missing very tiny areas where the tree neck meets the back of the head with filling in colour!!! That will teach me to leave finishing my entry until the last minute! I had put it down at 2am on the Friday morning and woke up at 5.30am in a panic but managed to make it to Birmingham just after 8am to register him!!