Cake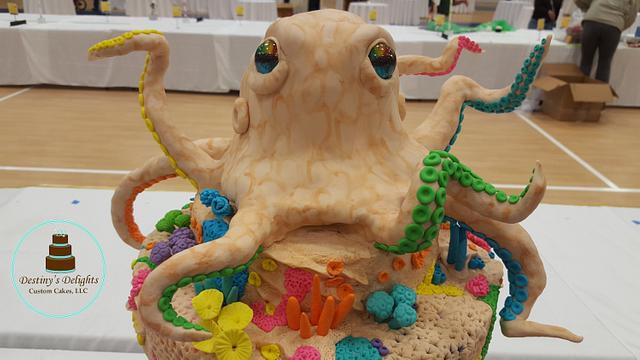 Oliver the Octopus
The was my entry to the National Capital area cake show in Fairfax VA. It won 2nd place in the semi-professional novelty tiered division.
Oliver the Octopus was created out of modeling chocolate and covered in a mixture of fondant and gum paste, then hand painted with cappuccino petal dust.
His eyes are made out of an edible image and isomalt sugar.
The coral reef was created and inspired by "The Magic of the Sea" cake, created by Mercedes Strachwsky. Its pieces were molded out of gum paste.
The carousel rides were also molded out of gum paste. The middle tier was designed to have a 2D effect which was achieved by using homemade molds with gumpaste and fondant.
Supplies used: fondant, gum paste, modeling chocolate, isolmalt, edible prints, gel colors, petal dust, dowel rods, floral wire and molds.
Thank You
fondant gumpaste modeling chocolate isomalt edible image petal dust ncacs 2017 competition octopus sea life coral reef carousel
2