Cake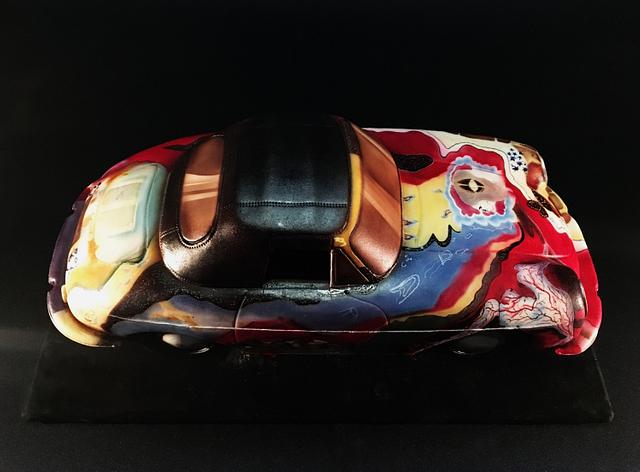 Janis Joplin Porsche Cake Decoration Airbrush with TruColor.
As a Porsche fan, an Airbrusher and a Cake Decorator, it wasn't that hard to find a topic to use for a demo on a Cake Exhibition last year. I took the 1964 356C 1600 Cabriolet, with a colorful paint job. This rock star on wheels was owned by Janis Joplin between 1968 and 1970.
I sculpted out the 356 Porsche of Isopor, at about 500mm width and 190mm high, than putted a layer of SweetArt Fondant over it and gave it some details with my Silicone Sugarworks shapers.
The design, known as the History of the Universe, is made by one of her roadies for $500, incorporates Joplin's star sign Capricorn, portraits of Big Brother and the Holding Company band members, valley scenes and 'The Eye of God', on the front lid of the Porsche.
Cake Decoration with TruColor, is working on a 100% natural basis. Just add some water to hydrate and decorate with airbrush and pencil.
dummy sweetart fondant super fondant isopur trucolor natural food color pigments trucolor airbrush paints innovative sugarworks sugar shapers milling machine trucolor smallvisuals edwin weimer janis joplin history of the universe
6