MUSHQWORLD
posted
over 6 years ago
Revolving Gramophone Cake
Advertisement
Advertisement
Revolving Gramophone Cake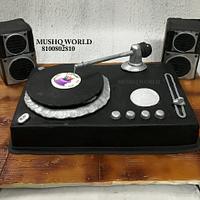 expand all pictures
Advertisement
Advertisement
A cake for those who love their music the old way. ..
GRAMOPHONE CAKE
Oh yes ! it looks like a real Gramophone with rotating players, light effects & inbuilt sound effects in speakers..The cake sings itself the birthday wish..
But oh yeah , it's a cake..
This cake has a very special meaning for us, since it's our 1st Mechanical Cake we've done.
Blessed we are with clients who have so much faith in us to create things magical for them..
Thank you .
For more magical cakes check out our page -
https://www.facebook.com/MushqAnEssenceOfDelight/