Cake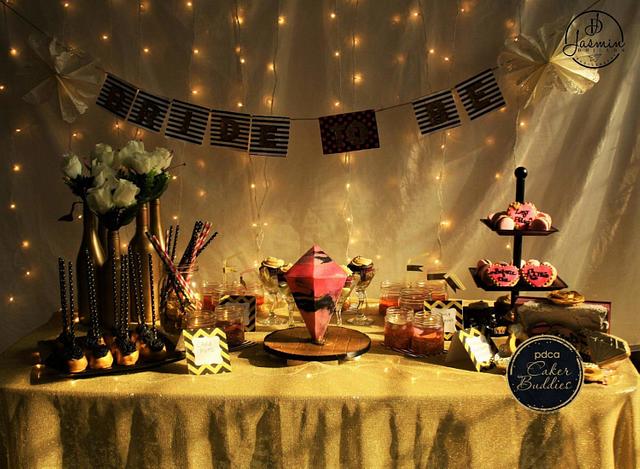 PDCA Caker Buddies Dessert Table Collaboration- Gliterrati bachelorette
Artist name: Nehmat Sood
Business name: The Chocolate Factory
I have been into caking business since over 4 years now. I love doing wedding cakes and using bright color palettes for my cakes and other bakes.
This table was created for PDCA Caker buddies 1st Anniversary edition.
Here's a link to the Caker buddies Facebook page
https://m.facebook.com/CakerBuddies/
About the Theme:
"Glitterati Bachelorette party"
The theme for my dessert table is all about a fun girls night before the big D-day. So the basic color palette is glittery gold, pink and black. My vision and inspiration for this sweet table was glitter, bling and everything girly. My centre piece, is inspired by a bride's wedding ring, a 3D crystal cake, which is completely edible and made of vanilla butter cake and white chocolate ganache. The cake was inspired by Avalon cake's crystal cake tutorial.
The cupcakes, cookies, macrons are flavoured with Baileys and dark rum.
All decorations for the table are handmade.
Credits/acknowledgements:
Special thanks to "Jasmin dhillon photography" for the photoshoot.
Here's the link to her instagram page https://www.instagram.com/jasmindhillonphotography/
white chocolate white chocolate ganache baileys irish cream dark chocolate ganache fondant gumpaste luster dust straws royal icing offset spatula scrapers bowl cake drum threaded rod cake boards cake stand cupcake stand pdcacakerbuddiescollaboration #cakerbuddies bachelorette crystal cake cake pops dessert table pdca caker buddies pdcacakecollaboration pink black jars straws baileys dark chocolate ganache white chocolate ganache polka dots india cookies girls night wedding bridal shower golden royal icing avaloncakeschool collab collaboration collaboration cake cupcakes frosting bachelorette party sweet table
39