Cake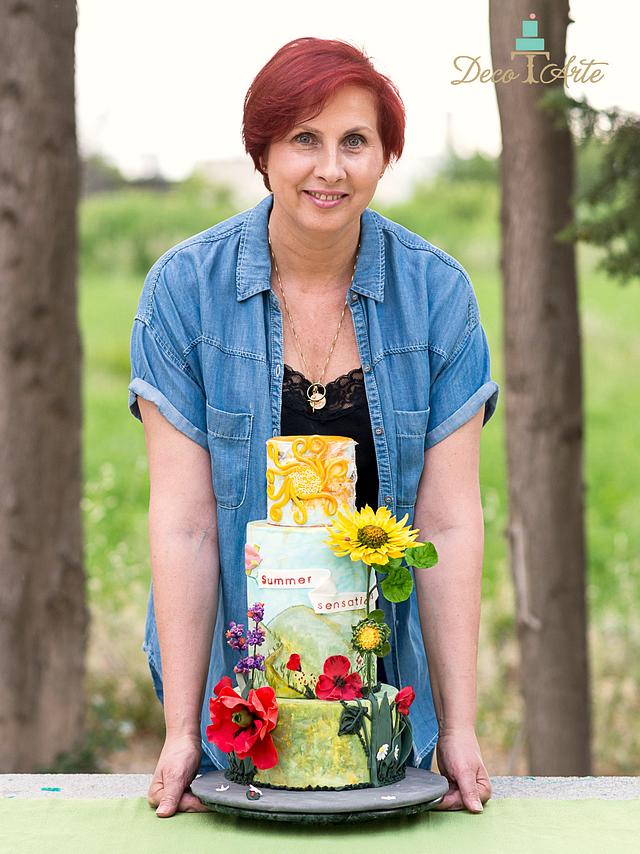 Summer Sensations - Sweet Summer Collaboration
(English below)
Es la pieza con la que participé en mi primera colaboración internacional.
El verano es mi estación favorita y en ésta pieza quise juntar todo el amalgama de sensaciones, colores, paisajes y pinceladas de naturaleza que en conjunto me traen el verano en la mente. Mirando ésta tarta me imagino de copiloto en el coche, viajando a la playa y mirando por la ventanilla. Los campos, las flores, el sol abrasador y el aire caliente que se intuye fuera de la zona de confort del coche, ha sido mi inspiración. Espero que lo haya logrado y que os llegue igual que me llega a mi.
La pieza está decorada sobre fondant, empleando técnicas de pintura en mojado y en seco, aplicación de waferpaper en el piso superior, flores y hojas en pasta de azúcar en 3D y 2D, y royal icing.
Fuera de ésta colaboración me podéis encontrar en un pueblo de Zaragoza – España que se llama Mallen, donde tengo abierto el obrador y tienda de repostería, DecoTArte. Muchos proyectos futuros están a punto de hacerse realidad, con lo cual os invito seguirme en
Facebook: https://www.facebook.com/DecoTArte/
Instagram: https://www.instagram.com/decotarte/
Y por último, pero no en último lugar, quiero agradecerle infinitamente a Isa por la oportunidad que nos ha brindado a los pequeños desconocidos que nos apasiona éste mundo y así se nos abre un poco la ventana para que nos conozca más gente.
Encantada de estar aquí y espero que mi pieza guste, con todo el nivelazo que hay en ésta colaboración. ¡Hasta la próxima amigos!
Mara Mihaela Dragan,
DecoTArte
This is the piece which I participated in my first international collaboration.
Summer is my favorite season and in this piece I have gathered all the amalgam of sensations, colors, landscapes and touches of nature which together bring me summer in mind. Looking at this cake I imagine me as co-pilot in the car, traveling to the beach and looking out thru the window. Fields, flowers, the scorching sun and hot air that is sensed outside the comfort zone of the car has been my inspiration. I hope that have achieved it and it's getting to you like it's getting to me.
The piece is decorated on fondant, using wet and dry painting techniques, wafer paper applications on the top floor, sugarpaste flowers and leaves in 2D and 3D technique, and royal icing.
Out of this collaboration I can be found in a town of Zaragoza – Spain called Mallen, where I have opened the bakery and pastry shop DecoTArte. Many future projects are about to be realized, which I invite you to follow me in
Facebook: https://www.facebook.com/DecoTArte/
Instagram: https://www.instagram.com/decotarte/
And last but not least, I want to thank infinitely to Isa for the opportunity, she has given us, small unknown people, that we love and have passion for the sugarcraft world and thus opens the window a bit so that more people know us.
Nice to be here and I hope my piece like, with the high level gathered in this collaboration. Until next time friends!
XX
Mara Mihaela Dragan,
DecoTArte
81