Cake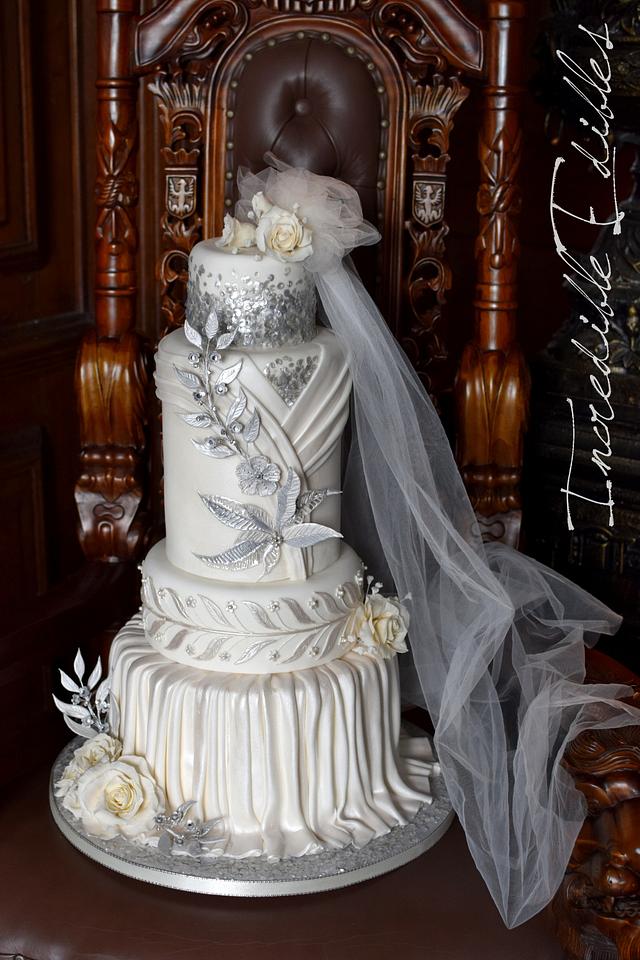 Lady Edith : A Sweet Farewell to Downton Abbey
This is my contribution to the 'A Sweet farewell to Downton Abbey' , a group of over 40 sugar artists from around the world join together to celebrate the final series airing in the United States on the 6th March 2016 www.facebook.com/DowntonAbbeySweetTribute
Take a virtual tour round Eriviat Hall, North Wales
I was privileged to be asked to be part of the 'Farewell Downton Abbey' collaboration as its been such an amazing drama worldwide. I absolutely love period dramas, all the dresses and costumes, the whole elegance of it all, it really has felt like a step back in time to view a world we never physically knew.
My 'Cakespiration' was taken from Lady Edith's wedding dress from season 3, upon first looking at the dress it looks plain but when you look closely the attention to detail is exquisite!
There is a mix of mainly silks with a hint of a matt fabric in the train at the back which I've tried to incorporate in alternate tiers. Then there's the stunning floral embroidery which adorns the side of the dress and the rear train. I've used a a mix of flower paste and hand piped cake lace to create the embroidery effect. I've also included the rouched material and added a pearl lustre to give the impression of flowing fabric. The edible sequins are taken from the tiny sequins which embellish the small embroidery. The bas relief pattern and the wired silver leaves are inspiration taken from the family heirloom head-dress that both Lady Edith and Lady Mary wear for their weddings. As finishing touches I decided to add beautiful hand made sugar roses and gypsophila taken some of the bouquets, Lady Edith had some pink roses but decided to stick with ivory and creams. I love how the veil falls around the cake , it really finishes it off and you can decide to position it any way you like.
downton abbey downton abbey cake farewell downton abbey downton abbey collaboration eriviat hall lady edith wedding cake wedding dress sugar roses head-dress north wales highclere castle cake art cake lace royal icing silk ruffles diamante veil
52