Cake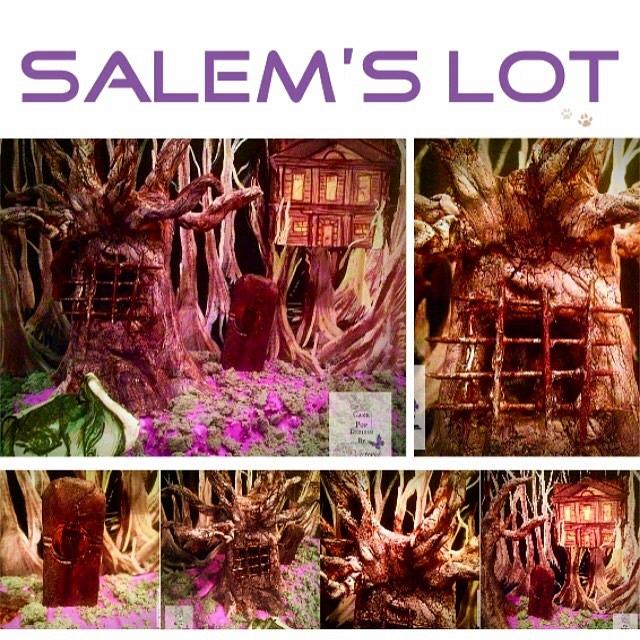 Salem's Lot
Hello my name is Victoria Ryan of Cake Designs By Victoria . I have always had a love for Art and Baking for as long as I can remember .
I was a painter for 20 years and walls and where my medium. After an illness I was left with no outlet for my creativity. That was until one day I went to a party and saw my first cake pop ! I went home and that night I started my journey in making Sweets my new medium ( that was about 4 years ago ) I started off with pops and my love for baking and Art quickly grew . I've ventured into cake about 2 years ago. While I still make all sorts of sweets, Cake is my true love !!! I hope to learn and grow in this new wonderful world Sugar .
The Book I chose is Salem's Lot . Stephen King is the best horror story writer of all time ! He has been scaring me for over 3 decades an I can't wait to be scared some more ! Happy Birthday King of Horror !!
My piece, Salem's Lot…. I chose to focus on the tree because of all its twist and turns just like Stephens stories .
Behind the piece:
The painting in the background is done with soft gel food coloring on a sugar sheets . The house is gum paste covered in wafer paper, painted with gels and glued together and to the board with isomalt. Face is a sketch done in food markers on wafer paper. My crowing jewel is my tree . I am in love with all the texture. It has a rice crispy base covered in 50/50 mix of fondant and gum paste with wire armature. Board is covered in chocolate and modeling chocolate.
I hope you enjoy my work as well as all the amazing work by everyone in this collaboration.
rct fondant gumpaste gel colors wafer paper chocolate modeling chocolate armature sugar shapers toothpicks paint brushes painted hand painted needle tool needle nose pliers isomalt hand painted horror #sugarart happybirthdaystephenking stephen king spooky tree haunted house sculpted
14