Cake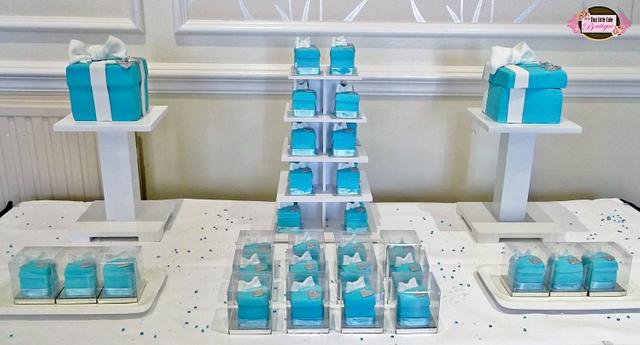 Tiffany Dessert Table with Surprise!
This was an order of 60 Vanilla Square mini cakes in the shape of Tiffany boxes.
There was also an order for the one 6" square vanilla cutting cake, so why is there two you ask?!
The husband of the birthday girl delivered me a REAL Tiffany box a few days before the celebration. I covered it in clingfilm, before covering it in sugarpaste and decorating it to look like a second cake. This was kept as a complete surprise from the recipient!
Above is a photo of her present, a gorgeous Tiffany watch, one lucky lady!
tiffany tiffany cake tiffany minis dessert table celebration birthday 40th lady girly girl tiffany blue tlcb that little cake boutique vanilla acetate boxes clear boxes
4