How to Make Tiki Heads
Last week I needed a luau-themed sweet treat to feed a crowd, so I decided to make mini cupcakes with tiki head toppers made out of chocolate rolled fondant. This is a lot of fun and very kid-friendly, so it's something the whole family can do as a group activity. You'll need chocolate rolled fondant (modeling chocolate or brown-tinted fondant would also work), a small angled spatula, dog bone or ball tool, veining tool, and thin modeling stick.

Roll the fondant into a log, as thick as you want your tiki heads to be wide. Then cut it into segments as long as you want the tiki men to be tall. Work with these one at a time, and keep the extras covered so they don't dry out.
Use the small end of a dog bone or ball tool to make the eye sockets. Then use a veining tool to form the nose.

Stick the end of a small spatula into the fondant below the nose to make a mouth. You can wiggle it up and down to make the mouth open or side to side to make it smile/frown. Then use the spatula edge to make tribal marks on the tiki man's forehead, cheeks, and chin.

Stick the pointed end of a modeling stick (or toothpick) in the eye sockets to finish the eyes. You can then further pinch and shape the top and sides if you want. Here's what they look like on the mini cupcakes with some simple blossoms and leaves.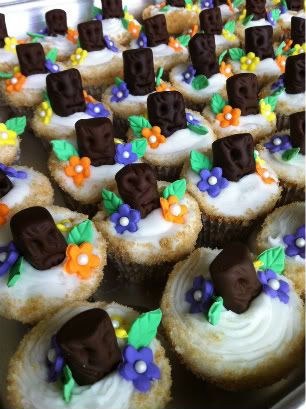 Tags: rolled fondant tiki luau cupcakes cake decorating how-to video tutorial