very moist chocolate cake
it is for use with a 18×12 pan.. i use large cookie sheet with high edges.. this is the best chocolate cake i have ever had hands down. we have always called it brownie cake but it isn't brownies.. ;) pioneer woman makes a good version of it and she puts buttermilk in hers so i used hers. it is awesome!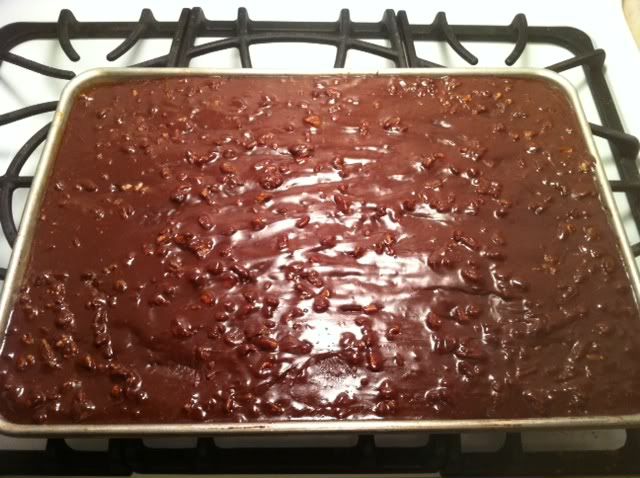 cake
2 cups all-purpose flour
2 cups sugar
1/4 tsp salt
1/2 cup buttermilk
2 large eggs
1 tsp vanilla extract
1 tsp baking soda
1/2 pound(2sticks) butter
4 heaping tblsp of cocoa powder
preheat oven 350 degrees
1) in large bowl combine the flour, sugar, and salt.
2) in another bowl mix buttermilk, eggs, vanilla, and baking soda.
3) in a medium saucepan, melt butter and add cocoa. whisk to combine. meanwhile, bring 1 cup water to a boil. when butter is melted pour in cup of boiling water. allow to bubble for a moment and turn off heat.
4) pour chocolate mixture into the flour mixture. stir for a moment to cool chocolate.
5) stir this into egg mixture.. stir until smooth and pour into ungreased pan.
bake 20 minutes
icing
1 3/4 sticks butter
4 heaping tblsp cocoa powder
6 tblsp milk
1 tsp vanilla
1 pound powdered sugar
1/2 cup chopped pecans
1) melt butter and add cocoa and stir until smooth
2) add milk and vanilla
3) add powdered sugar
4) add pecans
pour right onto hot cake and eat immediately!
Nothing compares!